FACILITIES

NEAL BROTHERS LEICESTER, HASTINGS ROAD


Neal Brothers Leicester's site is positioned in the heart of the UK from where it not only services the local markets but also offers a global on‐site packing option at our customers or any other site around the world.
Originating in the Leicester area, Neal Brothers have managed and driven the business forward, creating many of the opportunities that now exist in all of the company's other global facilities.
The main site in Hastings road Leicester has an area of approximately 250,000 square feet including 130,000 square feet of covered area, offering excellent operational opportunities with inside or outside storage and laydown areas which can be offered on short‐ or long‐term agreements to suit our large portfolio of clients.
The operational side of the business owns a vast array of modern lifting equipment, offering overhead cranage of up to 45,000 kg and forklift trucks which can lift up to 20,000 kg. We also offer a number of self leveling docks which enable us to efficiently load or unload all cargo types to or from transport including containers and flat racks etc.
Transport and freight can also be offered from the site, through our own fleet of modern compliant vehicles or in tandem with our large international network of partners.
Our attitude is that our staff always work with safety first, exceptional quality standards and the environment in mind the business is built around ensuring that our staff, our stakeholders and the environment are held safe and not harmed by any of our activities.
Our sites boast a number of green initiatives; including waste management and low emission vehicles etc. Allowing us to actively reduce our carbon footprint.
These systems and processes are continually updated to suit the ever changing needs of our valued customers and alongside a professional and committed staff means that no job is too big or too small, wherever it may be.
Contact Neal Brothers today for more information on our specialist transport services.
Contact us via Email, Telephone or through our contact form.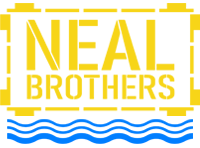 ABOUT US
The origins of Neal Brothers export packers date back over 100 years. During that time the business has expanded from its base in Leicester to operations throughout England and in Europe, North America and South Africa and with its strategic partnerships can offer full logistics and packing services worldwide.
Quality of service has always been a priority for Neal Brothers and continued growth has enabled the company to employ the best people and invest in the best technology and equipment.